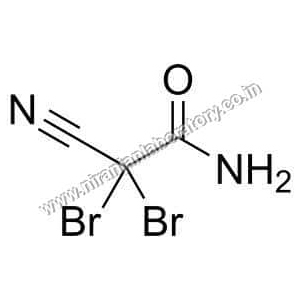 2,2-Dibromo-3 Nitrilopropionamide
Product Code : 00
Price And Quantity
Minimum Order Quantity

:

25
Unit of Measure

:

Kilograms/Kilograms
Product Description
2,2-Dibromo-3 nitrilopropionamide is a white to yellow powder with mild medicinal antiseptic odor. It is used in paper and pulp industry. It is free from impurities and therefore used in many consumer products like inks, waxes, polishes, detergents etc. Being broad spectrum biocide, 2,2-Dibromo-3 nitrilopropionamide is also used in industry to control fungi etc. This should be stored in original container with the lid tightly closed. For this purpose, we check all containers properly before we supply them to our customers at reasonable price.
Specifications of 2,2-dibromo-3-nitrilopropionamide :-
Molecular Formula: C3H2N2OBr2
Assay: 99% min
Melting Point: 122-126 ºC
Moisture: 0.5% max
Other Index Standard: YGYD (BP9)
Technical Details of 2,2-dibromo-3-nitrilopropionamide :-
Product
2,2-Dibromo-3-Nitrilopropionamide (DBNPA)
Batch No.
DB1603002
Reference
In-house
Date of Mfg.
42430
Date of Report
42451
Sr. No.
TESTS
SPECIFICATION
OBSERVATION
1
Description
White to Creamish crystalline powder.
Creamish crystalline powder.
2
Odor
Characteristic
Characteristic
3
Melting Point
Between 125°C to 127°C
125.6°C
4
PH (1% in water)
4.0 to 7.0
4.96
5
Water Content
NMT 0.50%
0.0018
6
Assay
Not less than 99.0%
0.9945

Remarks: The product complies as per In-house Specification.