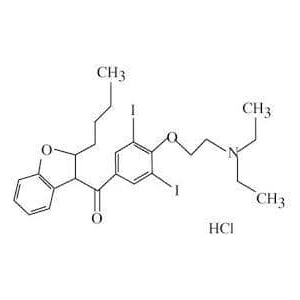 Amiodarone
Product Code : 00
Price And Quantity
Minimum Order Quantity

:

25
Unit of Measure

:

Kilograms/Kilograms
Product Description
The
Amiodarone
is appreciated in the market for its medicinal properties and accurate composition. It belongs to the IIIrd class of antiarrhythmic drugs that is used by surgeons and doctors with trust to calm the heartbeat rate of patients suffering from ventricles' heart rhythm disorder. Our offered
Amiodarone
makes it easier for the blood to pump out of the heart's lower chambers. It also helps in enhancing the life of essential cardiac fibers as well as extends the action potential duration of cardiac tissues. The offered does not cause any harm to users' body and have negligible side effects.
Additional Information:-
Person allergic to iodine should avoid the consumption of the offered.
The dosage of medicine must be consumed daily as per the instruction given by doctors
Grape fruit as well as its juice must not be consumed with the offered as it may be reactive and can result in side effects.
Specifications:
Sr.No.
Test
Specification
1
Description
A White or almost white fine crystalline powder.
2
Solubility
Soluble in methylene chloride and methanol;

3
Identification :
By IR
The Infrared absorption spectrum of substance being examined must be concordant with the IR spectrum obtained from Amiodarone Hydrochloride RS.
Reaction of chloride
Gives the reaction of chlorides
4
Appearance of solution
Solution is clear and not more intensely colored than reference solution GY5 or BY5
5
pH (5% w/v solution in carbon dioxide free water, (25°C)
Between 3.2 to 3.8
6
Impurity H (By HPLC)
Not more than 0.01%
7
Related substances (By
HPLC)
Amiodarone impurity A
Amiodarone impurity B
Total impurities


Not more than 0.20%
Not more than 0.20%
Not more than 0.50%
8
Iodides
Not more than 150 ppm
8
Heavy metals
Not more than 20 ppm
9
Loss on drying
Not more than 0.5 % w/w
10
Sulphated ash
Not more than 0.1 % w/w
11
Assay By Titrimetry
(on dried basis)
Not less than 98.5 %w/w and not more than 101.0 %w/w
12
Residual solvents (By GC)
Toluene
Isopropyl alcohol

Not more than 100 ppm
Not more than 4000 ppm