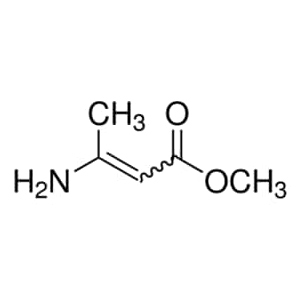 Methyl 3-Aminocrotonate
Product Description
Our Methyl 3 Aminocrotonate experiences squander free strong state course response with crystalline ninhydrin. A blend of ethyl acetoacetate, xylene and pyridine was refluxed under mixing, while bit by bit including an answer of xylene, pyridine and the appropriate substituted amine. The subsequent ethanol was refined as the response was finished and afterward the xylene was expelled by refining. The blend of Methyl 3 Aminocrotonate was cooled on ice and the encourage was separated and recrystallized from xylene. A blend of isopropanol, a substituted benzaldehyde, the appropriate N-substituted acetoacetamide, benzoic corrosive and piperidine was mixed at normal temperature for 15-20 hours, cooled and a while later sifted.

Key Features:

Hygroscopic and encompassing temperatures
C5H9NO2 is the formula
Liquefying point is 81-85°
91° is the point of flash
Niranjan Laboratory can meet your Methyl 3-Amino Crotonate requirement efficiently. This yellowish white crystalline substance has several applications in labs, plastic, pharmaceutical and many other industries, for instance:

1) Used as intermediate for the pharmaceuticals synthesis
2) Production of plastics and stabilizers
3) Synthesize 4-aryl-1,4-dihydropyridines possessing potential calcium channel blocking activity

This substance undergoes waste-free solid-state cascade reaction with crystalline ninhydrin. Customers can buy this substance from us for its confirmed purity and efficiency.

For the packaging of this substance, which is also called as Methyl 3-aminocroton; Methyl 3-aminocrotote; Methyl 3-iminobutyrate; Methyl β-aminobutenate; METHYL 3-AMINOCROTONATE; METHYL 4-AMINOCROTONATE; methyl3-aminocrotonoate;beta-Iminomethylbutyrate; METHYL 3-AMINO-2-BUTENOATE and METHYL-BETA-AMINOCROTONATE, we use poly bottles.

Trade Information
Contact us for information regarding our sample policy

Provide products in Drums